Octospora meslinii (Le Gal) Svrček & Kubička

Česká Mykologie 17: 67 (1963)



Basionym: Humaria meslinii Le Gal, Revue Mycol. (Paris) 4: 133 (1939)
Type: France, Calvados, Caen, 'parmi les coussinets de Grimmia pulvinata sur un mur de la venelle du Jardin des Plantes de Caen (Calvados)', Nov 1937, Dec 1938, Jan 1939 The original material was not found in Le Gal's collection in PC and appears to be lost.
Lectotype: Le Gal 1939: 135, Fig. 2; designated in Németh et al. (2022), MycoBank MBT 10003657
Epitype: Hungary, Nagymaros, Mt Rigó, 47°46'25.8" N, 18°56'18.8" E, 279 m a.s.l., on dacite rock, 7 Jan. 2018, leg. et det. C. Németh (epitype PRM 954637; isoepitypes PRM955442, CsN 9194), designated in Németh et al. (2022), MycoBank MBT 10003656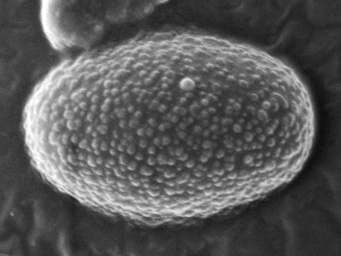 1: Octospora meslinii, SEM-image of ascospore, Germany, RP, Leistadt, leg./det. Heinz Itzerott 1980-12-22

Apothecia: margin somewhat pubescent first whitish and later becoming black
Asci: 8-spored, spores uniseriate
Ascospores: ellipsoid (16-)18-21(-22) x 10-13(-14) µm, ornamentation consisting of isolated warts
Host: Grimmia pulvinata
Habitat: exposed base-rich rocks and walls, in cushions of Grimmia pulvinata
Distribution: Czech Republik, France, Germany (rare BY, RP), Hungary
Note: Closely related to Octospora pseudoampezzana which has broader spores and parasites on Schistidium. In the past sometimes confused with O. similis agg. as well as with undescribed species. References of O. meslinii mentioning Schistidium as host probably represent O. pseudoampezzana (i.e. Engel & Hanff 1985).


References:
Benkert, D. 1998a. Beiträge zur Kenntnis bryophiler Pezizales-Arten. 6. Wrightoideae, eine neue Sektion der Gattung Octospora. - Zeitschrift für Mykologie 64: 17-40.
Benkert, D. 2009. Zwei neue Arten bryophiler Pezizales (Ascomycota) aus der Bundesrepublik Deutschland und Auflistung der aus Deutschland bisher nachgewiesenen Arten mit Kurzdiagnostik. - Zeitschrift für Mykologie 75: 51-68.
Caillet, M. & Moyne, G. 1987a. Contribution a l'étude du genre Octospora Hedw. ex S.F. Gray (Pezizales), Espèces à spores elliptiques ou fusiformes. - Bulletin de la Société Mycologique de France 103: 179-226.
Caillet, M. & Moyne, G. 1991. Clé de détermination du genre Octospora et des genres voisins. - Bulletin de la Société d'Histoire Naturelle du Doubs 84: 9-24. [ut Octospora melina]
Dennis, R. W. G. & Itzerott, H. 1973. Octospora and Inermisia in Western Europe. - Kew Bulletin 28: 5-23.
Engel, H. & Hanff, B. 1985. In Nordwestoberfranken gefundene Arten der Gattung Octospora Hedwig ex S. F. Gray. - Die Pilzflora Nordwestoberfrankens 9/A: 3-20.
Itzerott, H. 1979. Ein weiterer Beitrag zur Taxonomie der Discomycetengattung Octospora. - Nova Hedwigia 30: 139-148.
Itzerott, H. 1981. Die Gattung Octospora mit besonderer Berücksichtigung der Pfälzer Arten. - Nova Hedwigia 34: 265-280.
Itzerott, H. & Döbbeler, P. 1982. Octospora meslinii und O. rubens (Pezizales), zwei weitere bryophile Gallenbildner. - Mitteilungen der Botanischen Staatssammlung München 18: 201-212.
Krieglsteiner, L. & Markones, R. 2007. Pilze im Naturraum Mainfränkische Platten und ihre Einbindung in die Vegetation, Nachtrag 1. - Regensburger Mykologische Schriften 14: 21-35.
Le Gal, M. 1939. Un Humaria nouveau et un Lamprospora nord-américain récoltés en France. - Revue Mycol. Paris 4: 133-139.
Németh C., Eckstein J. & Sochor M. 2022. Disentangling the taxonomy of Octospora meslinii (Pezizales), a bryophilous ascomycete on Grimmia pulvinata. - Czech Mycology 74: 1–24.. PDF
Svrček, M. & Kubička, J. 1963. Druhý príspecek k operkulátním diskomycetúm z okolí rybníka Dvorist v jizních Cechách. - Česká Mykologie 17: 61-70.